Sophisticated, refined and welcoming, our Private Dining Room is available for booking.
Whether you are planning private dinners, boardroom-style meetings, working lunches, presentations, functions or parties, we can cater for up to 26 guests seated or 45 standing for drinks and canapés. We provide music, free Wi-Fi, speakers, flip-chart, notebooks/pens and we are happy to supply a projector on request.
You can choose from our range of set menus or, if you prefer, the events team will accommodate your specific food requirements to help you create your own event.
With the focus on authentic Italian cuisine, choices include light bites, antipasti and salads, fresh, homemade pasta, grilled meat and fish dishes. We also offer a selection of tempting desserts to finish. Signature dishes include mango & prawn cocktail, fusilli with white veal ragù, and our delicious corn-fed chicken. A local favorite for over 36 years, Santini is a family-run Italian restaurant located in the quintessentially British neighbourhood of Belgravia, just two minutes away from Victoria station. We look forward to welcome you and your guests with our signature cocktails and quality cigars.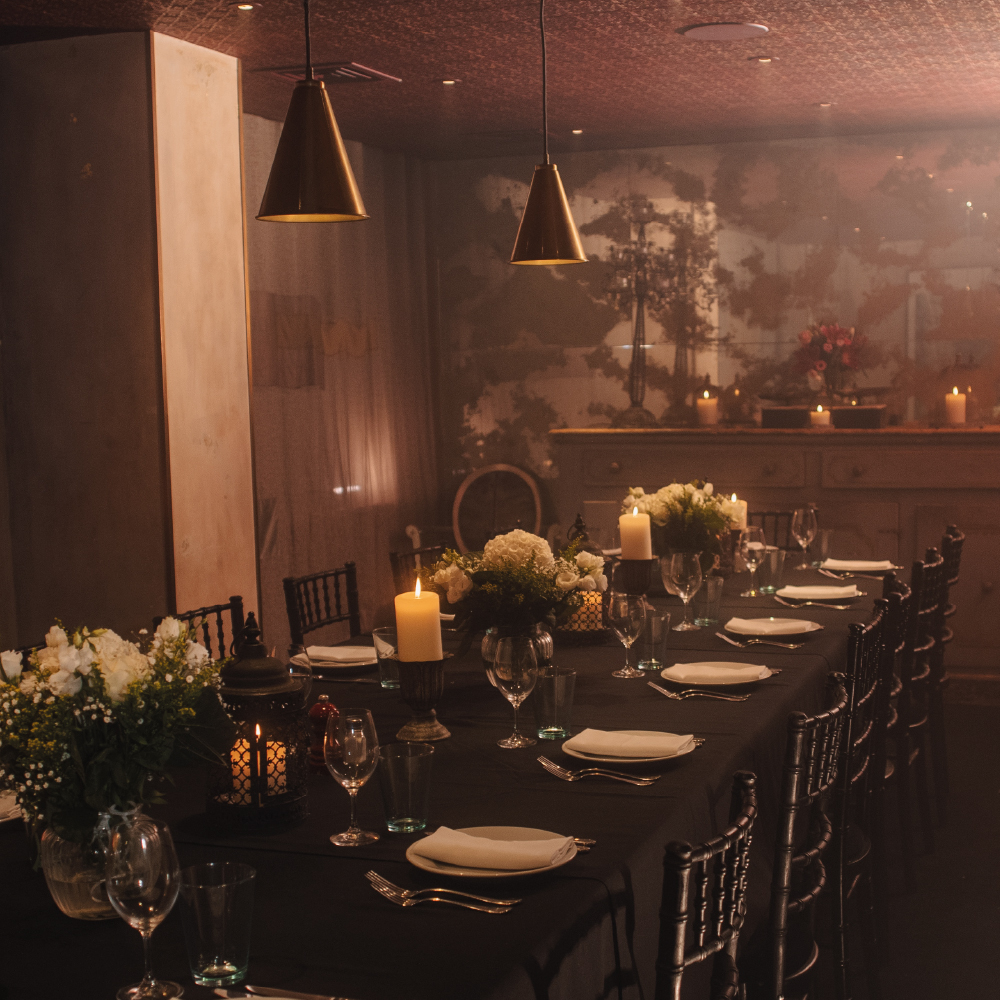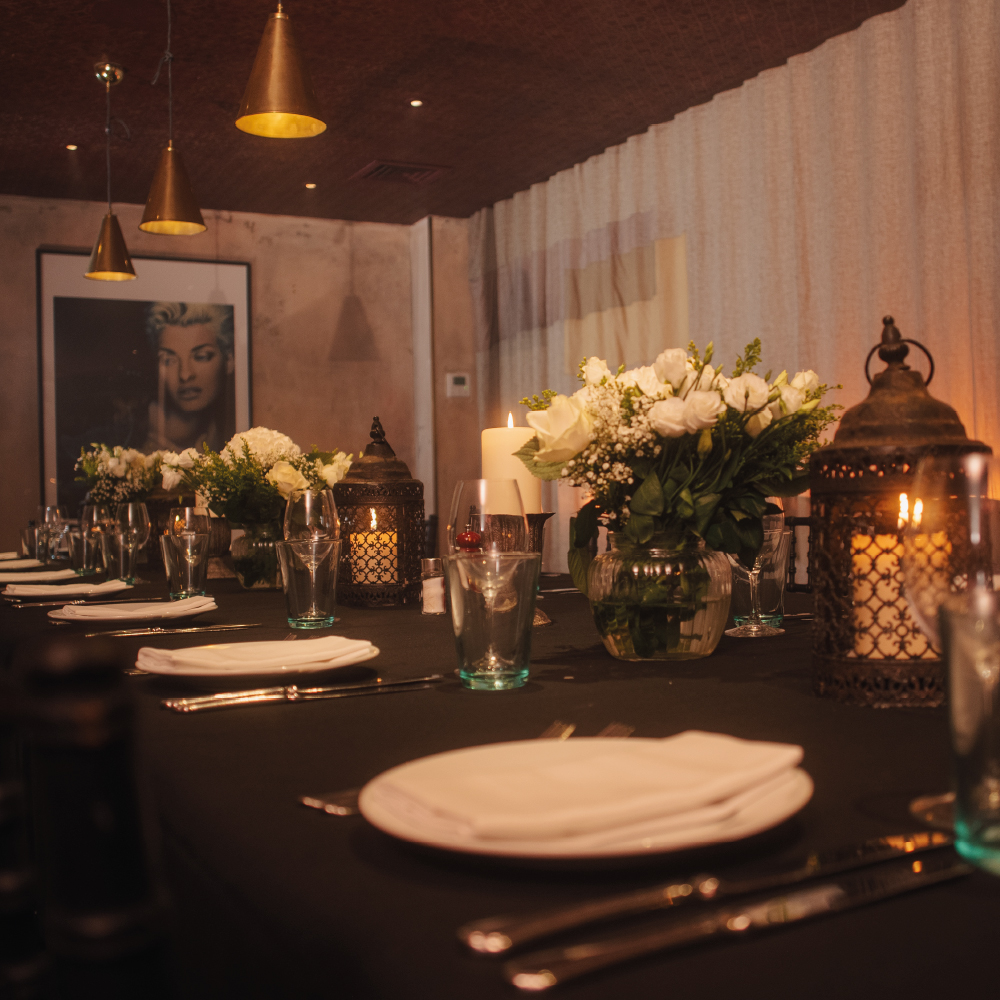 There is a choice of 3 Set Menus A, B and C. Please inform us of any allergies at the time of order. Our dishes may contain traces of nuts. We cannot guarantee the total absence of allergens in our dishes

MENU A
£90 per person
CRISPLY FRIED CALAMARI
Herb aioli
BRESAOLA
Celery heart, parmigiano 
TRICOLORE
Mozzarella di bufala DOP, heirloom tomatoes, avocado, rucola, basil, tapenade

***
BRANZINO SANTINI
Poached sea bass, lentils, mixed herb balsamic dressing
GRILLED CITRUS-MARINATED CORN-FED CHICKEN
Served with Santini devilled sauce and herbs fries
SARDINIAN GNOCCHETTI
Spicy tomato, aubergine, ricotta, basil
***
TIRAMISU
LEMON SORBET
CHOCOLATE PUDDING
whit whipped cream
MENU B
£110 per person
STUZZICHINO 
Seasonal teaser

***
MANGO & PRAWN COCKTAIL 
Avocado, onion and chilli lime vinaigrette
PROSCIUTTO DI PARMA & BUFFALO MOZZARELLA
AUTUMN SALAD
Roasted butternut squash, radicchio, chestnuts, salted ricotta, apple dressing

***
GRILLED HALIBUT
Served with salsa verde, spinach and kale
GRLLED LAMB CHOPS 
Cavolo nero, anchovy Lemon salsa
WILD MUSHROOM RISOTTO


***
MANGO SGROPPINO
Mango sorbet served with vodka

TIRAMISU 

SANTINI CHEESECAKE
MENU C
£130 per person
ANTIPASTI MISTI FOR THE TABLE
Umami platter, mozzarella di bufala DOP, crispy calamari herb aioli, classic beef carpaccio, zucchine fritte

***
RISOTTO CAPESANTE & AGRUMI
Citrus risotto with seared scallops
FUSILLI AL RAGOUT DI VITELLO SANTINI
Signature dish of short pasta curls, white veal ragout 
HOMEMADE PUMPKIN RAVIOLI
Sage burnt butter, aged balsamic vinegar, amaretti

***
INVOLTINO DI SOGLIOLA E GAMBERI 
Doversole and prawns with prosecco sauce
Side of sautèed spinach
SLOW COOKED VEAL SPEZZATINO
Wild mushroom, mash potatoes
MELANZANE ALLA PARMIGIANA
Slow baked aubergine layers, tomato sauce, mozzarella

***
AFFOGATO SANTINI
Vanilla ice cream, hot chocolate, espresso

APPLE TARTE TARTIN "ROSE"
with vanilla ice-cream

PECORINO DI PIENZA "GRAN RISERVA"
Please inform us of any allergies or intolerances before placing your order. Not all ingredients are listed on the menu and we cannot guarantee the total absence of allergens.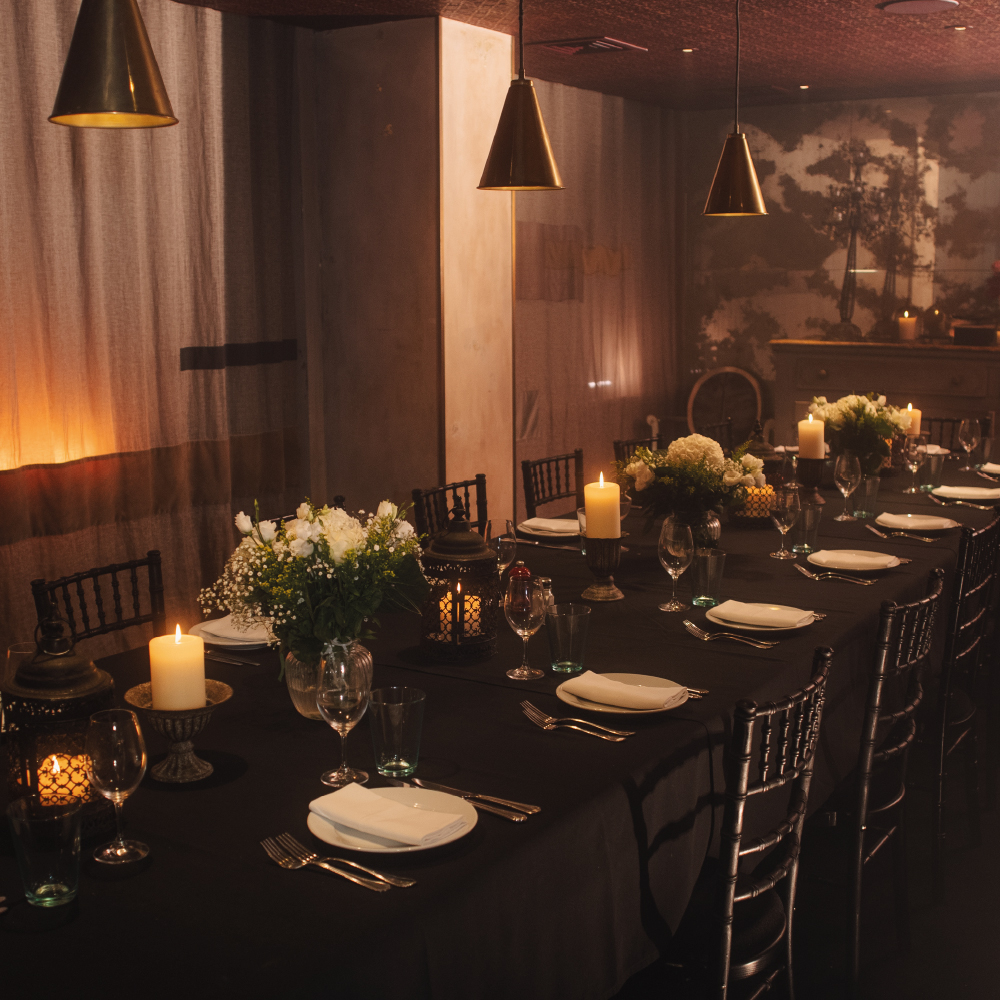 ITALIAN DISHES
We explore through fresh ingredients and authentic scents to keep the traditions alive and to offer real Italian Food in our lovely London.
QUALITY INGREDIENTS
Our aim is to enhance ingredients and flavours to create unique dining experience for our guests. We Italians are certainly good, but also lucky: we have raw materials of excellent quality and a unique tradition that allows us to make the most of them.
SERVICE
Whether it is for business or leisure, a lunch project or daytime meeting, Santini Restaurant offers an approach to service which focuses on making our guest feel welcome and at home, accompanied of course by a combination of exemplary wines and food.

EXCLUSIVE LOCATION
A local favourite for over 36 years, Santini Restaurant is a family-run Italian Restaurant located in the quintessentially British neighbourhood of Belgravia, just two minutes away from Victoria Station.
SELECTED WINES
An exclusive wine list. Wine has been an integral part of Italian culture for centuries, reason for which our search for the perfect combination of food and wine is continuous.

PRE-THEATRE DINNER
Just a few minutes to walk from the best Theaters in London, Santini Restaurant is the best location to have pre or after Theatre Dinner. We offer a special pre-theatre menu to guarantee our guests a unique experience just before the real show.